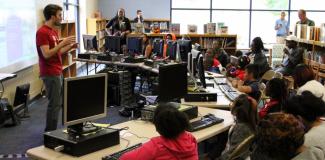 Bridging the Digital Divide: Client Spotlight on Kramden Institute
We appreciate the wide variety of backgrounds, experiences, talents and interests of our clients and like to periodically share their stories with others. We hope you enjoy our "Client Spotlight" feature!
Click on Kramden's website https://kramden.org/ and you will be asked these questions: 
"Can you go a day without a computer?  How about a week?  A month?  A year?  Can you imagine never having one at all?" 
Kramden, a 501(c)(3) charitable organization, founded by Mark and Elaine Dibner and their son, Ned, provides computers to students and families who don't have one in their homes.*
The idea was conceived back in mid-2003 when Mark and Ned, who was 13, built a computer from scratch.  [Mark and Ned spelled backwards = Kramden!]  This project inspired Ned to propose rebuilding old computers to give to the honor-roll students at his middle school who had none.  Over the next year, they collected old computers and monitors, refurbished them in their Durham basement, and, by the end of 2003, awarded a total 42 computers so that each honor-roll student had one!
Fast forward to 2017 and Kramden Institute now has a spacious office/warehouse in RTP with 12 employees.  Elaine gave Katrina and me a fascinating tour of the facility along with an explanation of what makes it tick.  The heart of the enterprise are volunteers who come every Wednesday night to work together refurbishing donated computers and monitors.  Up to 50 volunteers come at a time to man various stations where they inspect, clean, load software, and recycle unneeded parts.  Each station has its own explicit protocol and roaming "Super Geeks" are on hand to troubleshoot and advise.
Free desktop computers are awarded to students from 3rd to 12th grades.  Laptops are reserved for college-bound students who are charged a nominal fee.  Other non-profits such as community organizations and churches can purchase computers for the cost of refurbishment.  A staggering number of more than 28,000 computers have now been awarded to students, involving close to 13,000 volunteers, Kramden's "Geeks", who have given their time to the project.
Kramden also is on a mission to educate and offers outreach classes at schools and community centers on topics ranging from basic digital literacy to "How to fly a drone" and "Programming computer games." 
If you are cleaning out your home or office and run across unneeded computers or components, think about giving them to Kramden.  For four easy steps to donate a computer and equipment, go to https://kramden.org/donate-a-computer/.  Keep in mind your contributions are tax deductible.
Bonnie Mole is Client Service and Communications Manager at Townsend Asset Management Corp. located in Raleigh, NC.  
Email: bonnie@assetmgr.com