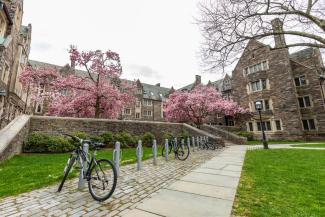 The Changing College Landscape
The 2020-2021 academic year is right around the corner, and the coronavirus pandemic has upended the college world, like everything else. Not only has COVID-19 impacted short-term college operations and student summer plans, but the virus could end up being the catalyst that changes the model of higher education in the long term. Here are some things to know about the changing college landscape.
College funds. Market volatility has been at record high levels this year, and college nest eggs may have taken a hit. Parents who have lost their jobs or otherwise suffered significant economic hardship due to COVID-19 might reach out to their child's college financial aid office to inquire about the possibility of a revised aid package, if not for fall then for spring.
Parents of younger children may want to review their risk tolerance and time horizon for each child's college fund. Parents who are using a 529 plan to save may have experienced one of the drawbacks of these plans in 2020: the restriction that allows only two investment changes per year on existing 529 account balances. This limitation can make it more difficult to respond to changing market conditions.
Student loan payment pause. The Coronavirus Aid, Relief, and Economic Security (CARES) Act enacted in March 2020 created a six-month automatic suspension of student loan payments for millions of federal student loan borrowers, along with a six-month interest freeze. The six-month period ends on September 30, 2020. Borrowers who anticipate having trouble restarting their monthly payments in October can contact their loan servicer to inquire about eligibility for an income-driven repayment plan.
Potential refund for spring room and board. Colleges were one of the first sectors to act in the early days of the coronavirus outbreak, asking students to extend their spring breaks in March and then directing them to stay home for the rest of the semester and finish classes online. Many colleges offered partial refunds for room-and-board costs for March, April, and May, but only for students living in dorms and on a college meal plan, not for off-campus students. If you think your son or daughter may have been entitled to a refund and didn't get one, contact the college to inquire.
Updated health guidelines for fall. Students heading back to college will likely find updated guidelines on social distancing and best practices for health and wellness, with potential restrictions on almost every facet of college life, including living in dorms, attending classes, eating in dining halls, and participating in student activities. Some programs may be limited or unavailable, such as studying abroad. Make sure your child has up-to-date health insurance and knows how to contact the campus infirmary if the need arises.
Interest Rates on Federal Student Loans
Interest rates on federal student loans have decreased to record lows for the 2020-2021 academic year. The new rates apply to federal Direct and PLUS Loans disbursed July 1, 2020, through June 30, 2021.
Source: U.S. Department of Education, Office of Federal Student Aid, 2020
Expanded online learning. Many colleges were already offering online classes before the coronavirus outbreak, but the pandemic shined a spotlight on this critical capability. Look for colleges to ramp up their online course offerings and make them more widely available to all students, not only during times of crisis but as part of a typical semester's course offerings. Some colleges might even require their fall semesters to be entirely online. Students will need to continually embrace new technology related to remote learning.
College selection. The coronavirus may have a long-term impact on how students choose colleges going forward. Cost is likely to play an even greater role, as many families may have less income and savings to put toward college expenses. This is likely to sharpen the focus on a college's net price. Location may also play an outsized role. Will students choose colleges closer to home for logistical and personal reasons? If so, look for state flagship schools to become even more popular, which will in turn increase their competitiveness.
This material has been prepared by a third party that is unaffiliated with Townsend Asset Management Corp. and is provided for informational purposes only. It may not represent the views of Townsend or its affiliates. Townsend has obtained permission to distribute this material. The information provided is not written or intended as tax or legal advice and may not be relied on for purposes of avoiding any Federal tax penalties. Individuals are encouraged to seek advice from their own tax or legal counsel. Individuals involved in the estate planning process should work with an estate planning team, including their own personal legal or tax counsel. Neither the information presented nor any opinion expressed constitutes a representation by us of a specific investment or the purchase or sale of any securities. Asset allocation and diversification do not ensure a profit or protect against loss in declining markets. Townsend Asset Management Corp. is an independent investment adviser registered under the Investment Advisers Act of 1940, as amended. Registration does not imply a certain level of skill or training. More information about the firm can be found in its Form ADV Part 2, which is available upon request. TAM-20-54.