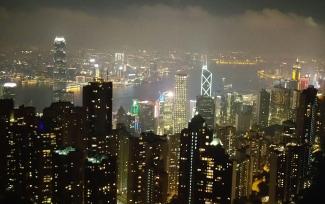 China Reflections - May 7, 2017
My wife and I just returned from a family trip to China - our ninth trip over the past 40 years. This trip was especially meaningful, as we were joined by our son, daughter, son-in-law, and grandson. Traveling certainly doesn't get any easier, and my body is still adjusting to being back, but the trip, as always, was fascinating, educational and fun. The food was wonderful and there is something special about eating Peking Duck while in Peking (Beijing) or enjoying Dim Sum in Hong Kong.
While enjoying exotic foods and mystical sites, trips like this can also put you in a reflective mood.
When we first visited Beijing many years ago, bicycles and motorbikes dominated the streets. But bicycle use in Beijing dropped from 60% in 1986 to 17% in 2010 and has doubtless declined further since then, while car use has grown 15% per year over the past 10 years. Status-conscious Chinese see bikes as transportation for losers, as evidenced by their saying "I would rather cry in a BMW than smile on a bike." Unfortunately, a direct result of the Chinese economic boom of the past decades is polluted air and horrendous traffic jams in their capital city of 23 million people; however, we fortunately gazed on glorious blue skies and avoided the periodic sandstorms blowing in from Mongolia's Gobi Desert.
Walking on the Great Wall and watching this 2,000-year-old structure snaking across the peaks of distant mountains is awesome. The primary purpose of the Great Wall was to protect China from the Mongolians and other invaders. At times it worked, but ultimately failed as an impenetrable line of defense. We also experienced China's new Great Wall, the "Great Firewall of China." We could not use Google in China or go to certain websites. But, much like the original wall, the new firewall is already porous and there are ways around it and you can't stop information from flowing through any more than the Great Wall stopped Genghis Khan.
We threaded our way through the crowds at the vast Forbidden City, a magnificent complex and monument to 24 emperors who ruled its halls over a period of almost 500 years. We also visited the Temple of Heaven and the Summer Palace, a sprawling landscaped park that served as an imperial retreat from the stifling confines of the Forbidden City.
On to Xian

Riding on a high-speed train from Beijing to the ancient capital city of Xi'an, we passed by endless agricultural fields and our mouths gaped open at the sight of some of China's "ghost cities." For nearly a decade, many huge real-estate developments have remained empty or only partially-completed. Some see these empty buildings as a sign of China heading to a real-estate crash or a debt crisis, as China's large banks, with government backing, financed the building splurge. Others simply see them as the typical result of supply and demand imbalance that often occurs with a giant state-run economy.
Xian​Xi'an is the location where the Terracotta Army of China's first emperor was discovered in 1974 by workers digging a well. There are thousands of life-sized soldiers and horses that are still being painstakingly pieced back together. The day-to-day work of archaeologists is certainly quite different than depicted by Indiana Jones in the movies.
Xi'an is also the terminus of the famous "Silk Road" traveled on by Marco Polo. The historic Silk Road was a 4,000-mile trade route extending from Eastern Europe to China, touching on the borders of India and Persia along the way.
Today there is a "New Silk Road," a name given to China's "One Belt/One Road (OBOR) initiative, which could become the world's largest platform for regional collaboration. The "belt" is the physical road from China all the way to northern Europe and the "road" refers to the shipping lanes to Europe. Just like the old Silk Road, it is all about trade, and many of the countries the New Silk Road passes through lack the necessary infrastructure. The concern is the impact this massive project will have on China's already staggering debt, which is currently nearly three times its Gross Domestic Product. However, the assets underlying OBOR should be more productive than the real estate speculation that produced the ghost cities. And, at least in the short-term, OBOR may offset decelerating real estate markets with an acceleration of the New Silk Road spending initiatives and have positive implications for the rest of the emerging markets.
Wuhan - Central China
From Xi'an we journeyed by train to Wuhan, capital of the Hubei province and largest city in central China. Both the YangTze and Han Rivers flow through this giant transportation and industrial hub. Summers in in Hong Kong Wuhan are hot and humid, earning it the dubious recognition of being one of China's "four furnaces." On a previous trip here, I recall my father-in-law describing being in Wuhan in 1938, watching Japanese bombers attack. Wuhan is also the home of my wife's elder brother and we enjoyed visiting again with his family. Throughout the trip, but especially with my wife's family, I took every opportunity to utilize and practice my meager Chinese speaking skills, which I've painstakingly worked on over the years. And, contrary to popular belief, waving your arms and speaking louder does apparently help to better communicate what you're trying to say!
When I marvel at the changes within China over the past decades, I can look at my wife's family and see these changes lived out. Her brother is a generation older than her and served as an officer in Mao's army. One of her brother's sons became a successful entrepreneur as China reawakened to the world - and her brother's grandson now works in a private bank, handling the fortunes of wealthy Chinese investors.
Hong Kong
From Wuhan we trekked to Hong Kong for more feasting and reunions with my wife's many life-long and cherished friends. Hong Kong is an enchanting area that I always enjoy seeing. Urban Hong Kong earns its people-packed and lively reputation, but there is much more to Hong Kong. With its mountainous terrain, less than 25% of its land is developed and 40% of the remaining land is reserved for country parks and nature reserves. We enjoyed hiking in several beautiful areas and boating past some of the 200+ small islands in the territory.
"Hong Kong" means "fragrant harbor," and its harbor is certainly a major attraction. A night-time view of the harbor, ships and glittering buildings from Hong Kong's highest point (Victoria Peak) is a sight no traveler should miss.
The Hong Kong Heritage Museum provides a unique mix of the territory's history, art and culture. We enjoyed its exhibition on the legendary martial artist and film star, Bruce Lee. He was a cultural phenomenon that just as his native Hong Kong, married East and West.
Hong Kong was a colony of the United Kingdom for 156 years before returning to China in 1997, under the "One Country, Two Systems" principle that recognized Hong Kong's capitalist economic and democratic political systems and promised non-interference with these systems for 50 years. While China has perhaps not overtly interfered, some restrictions on free press, free speech and the election process have occurred. However, the history of Hong Kong suggests that change is the only constant here, as this amazing area and its spirited people have reinvented themselves many times. Despite being perpetually at the crossroads, the same energy and dynamism that turned a collection of sleepy fishing villages into a bastion of international trade will continue leading Asia into the 21st century.
Gerald A. Townsend, CPA/PFS/ABV, CFP®, CFA®, CMT is president of Townsend Asset Management Corp., a registered investment advisory firm located in Raleigh, North Carolina.  Email:   Gerald@AssetMgr.com