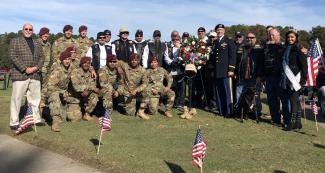 Contributing to our Community of Veterans: Client Spotlight Shines on the Hartleys, McCombs, Blues, and Beairds
We appreciate the wide variety of backgrounds, experiences, talents and interests of our clients, and from time to time we enjoy sharing their stories with you. 
Among our clients, there is a dedicated group with a common cause:
John & Nancy Hartley, Keith & Julia McCombs, Ken & Vernelle Blue, and Tom & Carol Beaird are active volunteers with Military Missions in Action (MMIA) which provides services for disabled veterans as well as support for members of the Armed Forces and their families.
MMIA was founded in January 2008 by Mike Dorman, a retired member of the Coast Guard, who identified pressing needs for our military members and families. 
Operating as a 501(c)(3) non-profit charitable organization, there are three main MMIA programs:
Operation Building Hope provides handicap accessibility for veterans with disabilities as well as children from military families who have special requirements.  So far this year, 9 home modifications have been built.
Homes for Healing supplies veterans with furniture and household goods.  Forty veteran families have been supported in the period from January to June 2019.
Fill the Footlocker collects and ships comforts of home to deployed service members.  In first half of 2019, 353 care packages have been sent overseas. This program also distributes clothing, shoes, blankets, and hygiene items to homeless veterans in North Carolina. During the holiday season, new toys, gift cards and cash are given to low-income military and veteran families.
How is MMIA able to operate and deliver these services?
Back in 2008, Mike Dorman and John Hartley were brainstorming on how they could raise funds for MMIA when John came up with the idea of putting on a golf tournament.  He introduced Mike to Evelyn Walters at the Bentwinds Country Club in Fuquay-Varina and the Tee-Off for the Troops Golf Classic was born!  2018 was the tenth anniversary of this major MMIA fundraising event which last year brought in $113,995.  Over ten years, the tournament has raised $521,444 net.  For every $1.00 raised, at least 93 cents are spent by MMIA on providing services.
Click here to see the video from the 2018 tournament.
How are our clients and Townsend Asset Management involved?
Keith McCombs has been the chair of the golf tournament for 9 out of the 10 years and continues in that role for 2019.  Julia McCombs has driven the beverage cart for the same number of years, providing much needed refreshments for weary golfers.  Keith and Julia have also been "Putting Green" sponsors for ten years.
Ken Blue assists in building wheelchair ramps and has played in all the tournaments.  Vernelle Blue supports MMIA with financial contributions.
Carol Beaird is a frequent MMIA volunteer.  She and her husband, Tom Beaird, have played in many of the tournaments.
Gerald Townsend and Townsend Asset Management have been sponsors of the tournament since its inception and are "Proud Supporters of the Navy" for the upcoming 2019 tournament which will take place over Veteran's Day weekend, November 10th-11th 2019.  Gerald's father, Gordon Townsend, was a WW II Navy veteran who served in the Pacific.
The Presidential Citizens Medal
In 2013, Mike Dorman was awarded the 2012 Presidential Citizens Medal which is the 2nd highest award bestowed on civilians by the President of the United States.  Nancy Hartley was instrumental in nominating Mike's name for consideration.  Out of approximately 6,000 nominations received for 2012, he was one of 18 who received the award from President Obama at the White House.
Accompanying Mike Dorman to the White House were Keith & Julia McCombs, and John & Nancy Hartley.
In 2013, Military Missions in Action also received The Order of the Long Leaf Pine, the most prestigious award given by North Carolina governors to those who have made significant contributions to the state.
We are honored to have the Hartleys, McCombs, Blues and Beairds as both clients and friends, and thank them for their service to our veteran and military community!
For more information about Military Missions in Action, please visit their website at https://www.militarymissionsinaction.org/
Bonnie Mole is Client Service and Communications Manager at Townsend Asset Management Corp. located in Raleigh, North Carolina.  Email:  Bonnie@AssetMgr.com