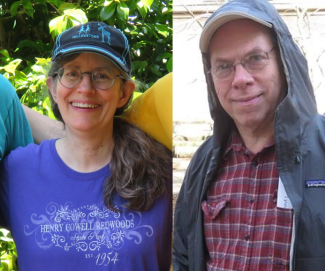 Environment and Education: Our Client Spotlight Shines on Dan Oldman and Cathy Starkweather
We appreciate the wide variety of backgrounds, experiences, talents and interests of our clients, and from time to time we enjoy sharing their stories with you. 
Dan Oldman's watchwords for retirement are have fun, stay engaged, and do something for the community.  He and his wife, Cathy Starkweather, are doing all that and more!  Although a book could be written on their many interests and volunteer activities, the environment and education are especially crucial issues.  This spotlight focuses on their involvement in environmental projects and adult literacy.
Cathy has been exploring carbon sequestration which simply means pulling carbon dioxide out of the air and putting it somewhere.  This happens naturally when plants take in carbon dioxide which is then stored in them and the soil.  In particular, peatlands are efficient in stowing away carbon.  Although they cover only 3% of the world's land surface, they store at least twice as much carbon as all of Earth's standing forests.
Eastern North Carolina is home to one of the greatest peatlands in the US, but since 1960 a large portion has been drained for agriculture and forestry.  The Nature Conservancy and the US Fish and Wildlife Service have launched a project to restore water tables in previously drained land to encourage peat growth.
Aside from reducing carbon in the atmosphere, there are other advantages to peatland restoration.  For example, Duke University has made a commitment to offset its carbon use by buying the rights to restore peatland on 10,000 acres in the Albemarle Sound region of North Carolina.  This is in addition to Duke's other environmental initiatives such as solar farming.
An immediate effect of peatland restoration is the reduction of flooding, drought and wildfires as peat serves as a sponge to soak up excess water.  The rise of the water table helps adjoining farmland combat soil salination.  Native Carolina peatland shrubs emit phenols which help stop the release of carbon dioxide and methane.  
Cathy has been facilitating Zoom presentations, which are given by The Nature Conservancy, to both inform people about the peatland restoration project and encourage them to become involved.
Dan has been working with the Citizen's Climate Lobby, which is a nonprofit, bipartisan organization focused on national policies to address climate change.  Currently he is a co-liaison with the offices of one of North Carolina's two Senators.  The group is working with Congress to pass legislation with a goal of driving down carbon pollution through a revenue-neutral price on pollution.
In addition, Dan is actively engaged as a volunteer at the Durham Literacy Center, which provides unique services to Durham's young adults seeking to improve themselves.  The Center teaches adults and out-of-school youth to read and write, as well as to prepare them to pass high school equivalency tests such as the GED®. English classes are held for non-English speaking adults. 
We thank Dan and Cathy for being both friends and clients, and for sharing their projects with all of us!
If you would like to learn more, please follow the links provided below:
Ultimate bogs: how saving peatlands could help save the planet.
Restoration Work - A Test for Carbon Farming
Carbon Sequestration Benefits of Peatland Restoration
Bonnie Mole is Client Service and Communications Manager at Townsend Asset Management Corp. Email: Bonnie@AssetMgr.com
The material in the links provided has been prepared by a third party that is unaffiliated with Townsend Asset Management Corp. and is provided for informational purposes only.  Neither the information presented nor any opinion expressed constitutes a representation by us of a specific investment or the purchase or sale of any securities. Townsend Asset Management Corp. is an independent investment adviser registered under the Investment Advisers Act of 1940, as amended. Registration does not imply a certain level of skill or training. More information about the firm can be found in its Form ADV Part 2, which is available upon request. TAM-20-60.