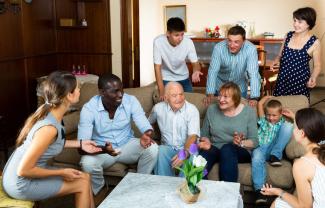 A planned and well-thought-out family meeting can positively impact multiple generations of a family – conveying information on family history and values; preparing younger family for future inheritances and wealth transfers; and discussing difficult questions about future health care and end-of-life planning for elders. Family meetings are as different and unique as families are, but there are common questions, opportunities, and concerns for any family meeting. Here are some things to consider:
Goals - What are the goals of the meeting? What do you want to accomplish?
How much detail? Some families are very open about money and discuss their income and assets in detail while others are more guarded and just talk in general terms.
Family history – How much do younger family know of their family history, shared values, and the struggles and accomplishments of prior generations?
Finances – What are the assets, debts, income, and expenses of each family member? How are investments and retirement accounts being managed? How solid is the retirement picture for parents and grandparents? What concerns or opportunities are present?
Advisors – Who are the financial, tax, legal, healthcare. or other advisors to be aware of and contact for assistance?
Estate – What is the plan for future distribution of assets of parents or grandparents? What legal documents have been prepared to implement those plans? Which family members are named in those documents as executors, trustees, power-of-attorney, etc.?
Charitable – What are the charitable giving preferences for the family and what is the plan and timeframe to implement?
Long-Term Care – Do older family members intend to stay in their home if a spouse becomes disabled and unable to get around? Who will provide future care – another family member or an agency? How will long-term-care be paid for?
End-of-Life Planning – Who do you want to make future healthcare decisions if you cannot? What kind of medical treatment do you want? What do you want your loved ones to know?
Family meetings need an agenda and clear goals. Open and respectful communication among all members is essential. Family meetings may benefit from having a financial or other advisor serve as the facilitator, keeping the meeting on track while also providing insight and background on the family's finances, investment strategies, and estate documents.
Contact us to discuss setting up your family meeting.
Gerald A. Townsend, CPA/PFS/ABV, CFP®, CFA®, CMT is President of Townsend Asset Management Corp., a registered investment advisory firm located in Raleigh, North Carolina.
Email:   Gerald@AssetMgr.com
The opinions expressed are those of Townsend Asset Management and are subject to change without notice. This material is not financial advice or a recommendation to buy or sell a particular security, investment strategy or product. Townsend Asset Management Corp. is an independent investment adviser registered under the Investment Advisers Act of 1940, as amended. Registration does not imply a certain level of skill or training. More information about the firm can be found in its Form ADV Part 2, which is available upon request. TAM-21-42