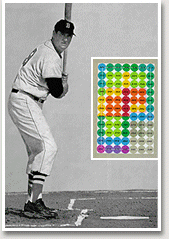 Finding your Financial "Happy Zone"
I started playing baseball as a young child and competed through 2 years of college.  My baseball career brought me not only great joy, but also taught me some lessons about life.  In particular, I think back on what I learned from the philosophy of the late Ted Williams, the greatest hitter who ever lived.  Yes, he had huge talent, but he also developed a strategy that allowed him to excel above the rest.
Ted Williams coined the term, "Happy Zone", which was his statistical study of the entire strike zone broken into 77 baseball size boxes.  Each box was given a percentage of the success he would have hitting a pitch in that location.
His strategy was to only hit the pitches with the highest probability of success and exercise the discipline to not swing at the other pitches.  Using this tactic allowed him to achieve these outstanding statistics:
Lifetime batting average of .344
2,654 hits
521 home runs
1,839 runs batted in
So how can the principles of the "Happy Zone" be applied to your finances?
Know what counts.  In baseball, the strike zone is the area between the batter's knees and the middle of the torso.  From a hitter's perspective, what counts are the pitches in the strike zone; everything else is just noise.  When planning your finances, focus on a goal and stick to it – tune out the chatter.
Know your strengths.  To be successful in hitting a baseball, you need to know your strengths and swing for the fence when the pitch is right.  When it's not, don't swipe at the ball aimlessly.  Use your strengths when shaping your financial future.  On the flip side, be aware of your weaknesses and get assistance if needed.
Swing the bat.  What good does it do for a batter to study and analyze the strike zone, only to then watch 3 strikes whiz by and never swing the bat?  A player will never succeed if the bat just sits on his shoulders.  When the pitch comes in the sweet spot, swing the bat!  When it comes to making financial decisions, use your strengths and abilities to make the right call.
Leave the rest behind.  Some days, batters just strike out and have an unsuccessful day, but not a failed career.  Financial markets can have down days, but trust your planning and move forward to the next "at bat."
Discipline creates success.  It requires discipline to accomplish those tasks that are most important to us.  Most people want a financial strategy but have trouble taking the time to craft a plan and then seeing it through.  Our firm, as a Registered Investment Advisor, makes it a priority to recognize your strengths.  We're here to help you "swing the bat", exercise discipline and move you forward.  That's what we do, and we love doing it.
Contact us to help you find your financial "Happy Zone".
Caleb Griffith, CFP®, is a Senior Financial Advisor at Townsend Asset Management Corp., a registered investment advisory firm offering comprehensive wealth management expertise to its clients.  Email:  Caleb@AssetMgr.com 
[Photo sourced from http://tedwilliams.com/_data/hzone.htm]