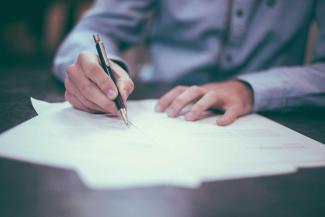 If you're interested in beginning to invest but are nervous, or simply don't have a lot of money to invest, why not start slow?
There are a multitude of ways to get started without risking a lot of money in the process. If you have $1,000 and are ready to start investing, here are some ways to do so:
Open an IRA. While investing in an IRA is not the same as buying stocks outright, you are still investing in the market and you will still increase (or decrease) your IRA balance based on the investment choices you make. As an added benefit, you'll also be increasing your retirement fund.
 
Start using an investment app. There are many on the market today, and all of them can help you begin to invest in stocks, with the apps purchasing portions of stocks that provide you a small return on your initial investment, which can be as low as $5.00. Using one of these investment apps will also provide you with a window to stock performance, enabling you to see how stocks perform, while perhaps giving you the confidence to make a larger investment.
Consider U.S. Treasure Securities. If you really want to start investing conservatively, you may want to invest U.S. government securities. While the return won't be enormous, the investment is secure and you can start with as little as $100.00.
Star using an online discount brokerage firm. You'll be able to trade at a low cost, and invest in a few high-performing stocks in order to get your feet wet. While some brokerage accounts have a high minimum balance requirement, others have no minimum balance at all.
Consider investing in real estate. Yes, you can start with $1,000 by investing in a Real Estate Investment Trust (REIT). REIT's allow multiple parties to invest in a single real estate investment without the hassle of having to find reliable tenants and maintain the property.
Try peer-to-peer lending. There are a variety of peer-to-peer lending platforms available that allow you to lend money to worthy endeavors. You can start with as little as $25.00 and earn money when the borrower pays back the loan with interest.
Invest in a small business. If you have a latent entrepreneurial spirit, why not invest some or all of your $1,000 in a small business idea. If this idea doesn't appeal to you, consider investing in someone else's small business. If you do decide to invest in someone else's business be sure to complete your due diligence before parting with your money.
Pay down your current debt. While this is probably the least exciting option, it can pay the biggest dividend of all.
While $1,000 may not seem like much, starting your investment journey with minimal risk will give you the knowledge and the confidence to tackle more high-risk investments down the road.
This material has been prepared by a third party that is unaffiliated with Townsend Asset Management Corp. and  is provided for informational purposes only. Townsend considers this third-party source and information to be reliable, but its accuracy and completeness cannot be guaranteed.  It may not represent the views of Townsend or its affiliates. It should not be considered a recommendation to purchase or sell any particular security. Past performance should not be relied on as an indicator of future results. All investing assumes a certain degree of risk, including loss of principal. Townsend has obtained permission to distribute this material. Townsend Asset Management Corp. is an independent  investment adviser registered under the Investment Advisers Act of 1940, as amended. Registration does not imply a certain level of skill or training. More information about the firm can be found in its Form            ADV Part 2, which is available upon request. TAM-23-30