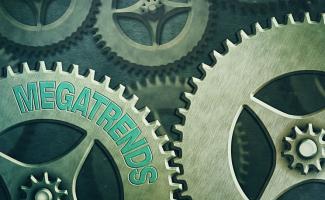 Thematic Investing: Megatrends Transforming Our World
Thematic equity strategies invest in companies whose products or services are underpinned by powerful forces of change we call megatrends. These megatrends are fundamental shifts in technology, culture, the environment, or other conditions that are developing and moving with inexorable force.
Recognizing a theme is different from being able to capitalize it. In the early 1970's personal computers appeared and were produced by many different manufacturers. Who would emerge from a crowded pack to be the winner? Many investors lost money betting on the wrong horse while an obvious trend played out.
Themes must be "investable," but promising new technologies may not be developed enough yet to be investable. Space exploration and quantum computing are examples.
When the gold miners journeyed west with hopes of striking it rich, a few did – but businesses selling supplies to the miners fared better. Take 3D printing as a modern-day example. The companies making 3D printers suffered from pricing pressures and commoditization. But Nike used this technology to create highly profitable custom shoes and medical technology companies used 3D to create custom prosthetics.
Some of the megatrends transforming our world:
Environmental – Clean energy, natural resource scarcity, climate change
 
Globalization – Increasing global connectedness and flow of people, capital, products, services, information, and culture.
 
Demographics – Widening demographic divide between countries with younger workers and those with an aging and shrinking workforce.
 
Health – Rising wealth, longer lives, and advances in medical care make health care a major expenditure for individuals and governments.
 
Technology – The development as well as the application of science, knowledge, and technological innovations to commercial or industrial processes.
Within these megatrends various platforms for growth appear, such as:
Global E-commerce – While e-commerce has grown since COVID, it still only has a 22-25% penetration of sales. Beyond companies like Amazon and Alibaba, opportunity exists in industries like fashion, autos, travel, restaurant delivery, etc. Methods of exchange are also evolving with the trends in e-commerce, allowing mobile payments and digital wallets to gain traction.
 
Genetics – In addition to human gene therapeutics, agricultural and even artificial intelligence applications present themselves.
 
Intelligent Machines - Artificial intelligence or machine learning is permeating every layer of product development and the future of production will include individualized products designed to the needs of a customer.
 
Data Explosion – A critical component of all these themes is a massive amount of ever-changing data that must be collected, cleaned, analyzed, and delivered. This requires datacenters, fiber-optic cables, cell towers and other infrastructure.
Caution is urged when applying themes to a portfolio. For example, clean energy is a theme that has been around for a while but having the bulk of your assets invested just in solar energy companies would not be wise. Use themes to tilt your portfolio a bit, but they should not dominate your diversified portfolio.
There are many mutual funds focusing on one or more trends, but you may already be investing thematically, without even knowing it. Amazon, Alphabet (Google), Visa, Costco, John Deere, Eli Lilly, Danaher, Ecolab, Fiserv, NextEra Energy and many others are innovative companies at the center of these megatrends and are widely owned, directly or via funds, in many portfolios already.
Gerald A. Townsend, CPA/PFS/ABV, CFP®, CFA®, CMT is President of Townsend Asset Management Corp., a registered investment advisory firm located in Raleigh, North Carolina.
Email:   Gerald@AssetMgr.com
The opinions expressed are those of Gerald Townsend, President of Townsend Asset Management. Neither the information presented nor any opinion expressed constitutes a representation by us of a specific investment or the purchase or sale of any securities. Forward looking statements cannot be guaranteed. Past performance is not indicative of future results. This material is not financial advice or a recommendation to buy or sell a particular security or product. Asset allocation and diversification do not ensure a profit or protect against loss in declining markets. Townsend Asset Management Corp. is an independent investment adviser registered under the Investment Advisers Act of 1940, as amended. Registration does not imply a certain level of skill or training. More information about the firm and its employees can be found in its Form ADV Part 2, which is available upon request, and on our website. TAM-20-69